Launching November 2023
The Chamber's Leadership 360 program provides a facilitated sounding board for business owners and leaders to present timely issues for structured group analysis and coaching.  Program allows participants to tap into collective experience and wisdom while processing a key decision. Cohort members will gain insight on relatable issues while building a trusted network of advisors and develop knowledge of new companies and industries. Each cohort is limited to 12 business owners or leaders from small to medium size companies, who meet twice per month for six months and discuss significant business, human resource and personal decisions.
 Topic Examples:
Significant business decisions such as:

Expanding or acquiring another business
Launching a new product or service
Enhancing sales, marketing or customer experience
Navigating financial issues or making a major investment
Changing processes or operations
Deciding when to depart, retire, sell or merge
HR-related challenges such as:

Critical hiring or restructuring decisions
Handling problem employees and/or work conflicts
How to coach employees, managers and supervisors
Succession planning
Personal challenges such as:

Managing relationships with business partners or investors
Leading through major periods of change
Managing public relations or crisis issues
Managing work-life balance
Leadership 360 requires participation in at least 10 of twelve 90-minute sessions from November 2023 to May 2024, twice per month from 8:30–10:00 am. Meetings will take place in the board room at Birdi Golf. Pastries and coffee will be served.
Leadership 360: A facilitated sounding board for business owners and leaders who present timely issues for structured group analysis and coaching.
About The Facilitator
Suzanne brings 30 years of experience in coaching and organizational development to her role as President of Abeo Consulting Group. Couple this with her passion for helping people love their work, and she will lead the growth and development of our Leadership 360 cohort. She has successfully facilitated cohort-learning programs for seasoned business leaders in a variety of industries including retail, healthcare, technology, manufacturing and financial services.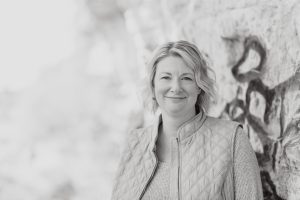 Thank you to Birdi Golf for sponsoring the meeting location.