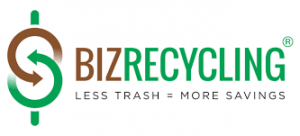 BizRecycling is a FREE program offered to businesses in Ramsey and Washington County. This program provides businesses an opportunity to save money, while making a positive impact on the environment. BizRecycling provides the tools you need to make your business more profitable, and guides you in your efforts in helping our environment.
See the potential savings your business can take advantage of with a FREE EVALUATION.
Visit the Rethink Recycling website and Lesstrash.com for more information.
HOW DOES THE PROCESS WORK?
Start by filling out your contact information on the Take Action webpage or by calling 651.266.1199. A County staff person will contact you to answer questions, determine the needs of your businesses or organization, and connect you with one of the expert consultants they have under contract. The consultant will conduct a free 30-minute waste assessment at a time that fits your schedule. Then the consultant will review results of the waste assessment and discuss options for designing a new, or improving an existing recycling and/or organics collection program that meets your needs.
These options may include ways to make it easier to put more paper, plastic and metal in the recycling bin, or how to start a food waste recycling program. Ultimately, these changes could save you money by reducing the size of your trash dumpster or the frequency of pickup. For example, after improving their recycling program, A. Johnson & Sons in Saint Paul is saving about $600 on their waste bills every year.
WHAT KINDS OF ORGANIZATIONS QUALIFY FOR BIZRECYCLING'S FREE ASSISTANCE?
BizRecycling will work with any type of business or organization located in Ramsey County or Washington County. Examples include office buildings, retail stores, restaurants, manufacturing plants, schools, nonprofits, hospitals and other health care facilities, places of worship, and other institutions.
WHO CAN FILL OUT THE CONTACT INFORMATION ON TAKE ACTION?
Anyone at a business or institution can fill out the contact information on Take Action! Waste reduction and recycling programs succeed when management and employees are organized for, involved in, and committed to making change together. Employees, get management on board by showing how a waste reduction and recycling program can save your company or organization money, boost employee morale, and save natural resources. Management, it's helpful to identify a "champion" in your organization to lead the effort, coordinate activities, and keep people informed and engaged in the process. Learn more at Rethink Recycling's 5-Step Guide.
WHAT IS MY ORGANIZATION RESPONSIBLE FOR PAYING?
The help of BizRecycling's consultants is absolutely free - the consultants are under contract with Ramsey and Washington Counties. If your BizRecycling consultant recommends starting a new service, such as a recycling or organics pickup service, your business or organization would be responsible for paying the service just as you do for trash pickup. However, you may be able to save money by reducing your trash dumpster's size or its frequency of pickup.
If you need new recycling bins, you may be responsible for the purchase cost. However, businesses and other organizations in Ramsey and Washington Counties can apply for grant funding to cover this cost. They also offer grants to pay for the first couple of months of organics collection to help kick start your composting program. Learn more about BizRecycling grants. Ramsey County schools can apply for a School Recycling Bin grant.
MORE QUESTIONS?
Give them a call at 651.266.1199.